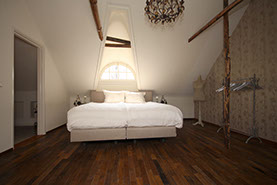 There are two rooms on the ground floor: one double room and one room with two single beds. The rooms are easily accessible for people who have difficulty walking, they are also good accessible for wheelchairs.
The beds are made with hypoallergenic bedding.
Extra beds are available at € 25,00 per night including breakfast. An extra child's bed is free.
We have decorated the rooms with special care to ensure our guests feel welcome and at home. The rooms include a water heater to have a cup of tea and a Nespresso coffee machine. The rooms include a TV and Free-Wi-Fi.
Both rooms have a private bathroom, with a shower, toilet and a sink.